The EEx Guide to Continuous Provision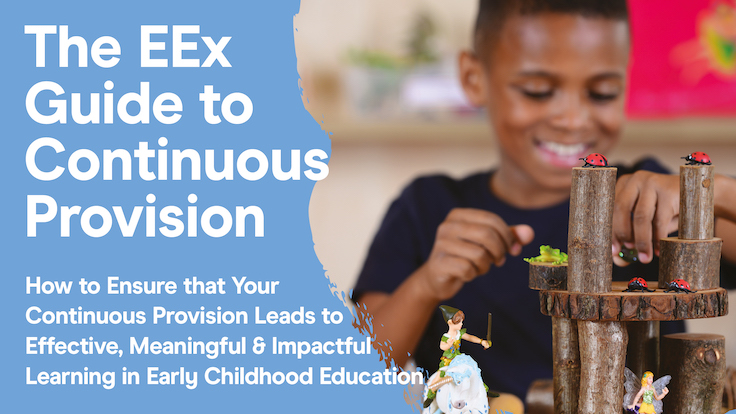 We are delighted to announce that we have now published our 'Guide to Continuous Provision' which is a long-awaited overview of what Continuous Provision is all about – what is it, why it's important and how to plan each area to ensure maximum curriculum coverage.
This fully illustrated guide with planning documents includes:
A three-part illustrated overview of what, why and how

A useful set of discussion points to support the review of current provision

A full set of Continuous Provision Plans, one for each area

Guidance on how to use the plans with your team

Blank formats to help you create your own plans
Beautifully presented and highly practical – this guide is a must whether you are a student starting out, an EYFS teacher wanting to know more or a leader working with your team to embed consistent good practice.
£35.00 (VAT exempt)
Online payments only
---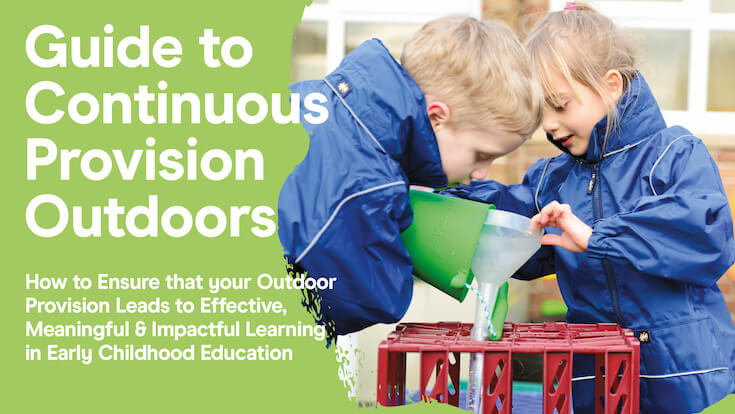 Our new Guide to Outdoor Provision is now available to order and makes the perfect partner to our Guide to Continuous Provision focused on indoor provision.
Written as a practical tool to help you review and refine your teaching and learning outdoors, this fully illustrated Guide to Outdoor Provision explores all aspects of quality practice from underpinning principles, resources and routines through to the role of the adult.
Inside you will discover:
Introductory chapters focusing on the principles of best practice

Information about how to plan and resource continuous and enhanced provision

Guidance on planning space, organising resources and managing routines

Advice about the role of the adult and how to develop learning conversations

A full set of outdoor provision plans for 3-5yrs, one for each outdoor area
At the end of each chapter you will find a set of discussion points and activity ideas to support you to review your current provision, making this guide a must have early years resource that you will cherish and use time and again.
£35.00 (VAT exempt)
Online payments only
"As a Head teacher, Early Excellence has been instrumental in helping our school to establish Continuous Provision and create inspirational environments for our children to thrive in.
This practical guide has everything you need to establish Continuous Provision in your own setting. It's easy to follow, helps practitioners to understand why it is so important for our children and provides practical steps to ensure you can start from where you are and adapt to your own context. If you need help to create or reform your learning environment- this guide is the perfect place to start. "

Alison Heale
Headteacher at Ysgol y Hafod Johnstown, Wrexham

"This guide from Early Excellence offers an insight into the importance of continuous provision and a reminder of how valuable the role of the adult is. It's definitely changed my practice for the better after over 20 years of being in the childcare profession and made me consider how children access resources to support deep embedded learning"

Jo Berry
EYFS practitioner at Thrussington CE Primary
"As a student teacher, I have begun to delve into the world of continuous provision in an early years environment. This book not only strengthened my understanding but also gave a guide and tool to use and apply in my own setting. For any young teacher, beginning their early years journey, this book provides an invaluable reference of how we can make the early years curriculum the very best for the future generations"

Eleanor Richardson
Education with QTS student at University of Winchester