Developing Young Mathematicians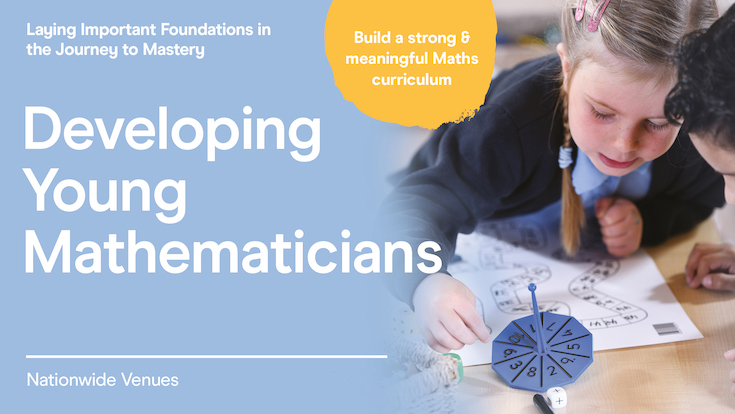 Following on from our highly informative 'Designing Your Curriculum' course, Early Excellence will be delivering this essential new full day event, alongside a themed twilight Learning Walk, focused on the fundamentals of teaching Mathematics in the Early Years.
Drawing on the latest research and with the new focus on achieving an effective curriculum, the day will reflect on the latest materials and guidance published for the EYFS and Year 1. As Ofsted's current inspection framework requires staff to be "knowledgeable about the teaching of early Mathematics", it is more important than ever that teachers have a keen understanding of how children develop mathematical concepts.
Join us for one or both of these unique and highly innovative events and immerse your team in the wonderful world of Maths as they refresh their knowledge and gain new impetus for teaching Maths with sufficient cognitive, contextual & collaborative challenge.
Set in our Mobile Classroom Environment at venues across the country, the day will be highly-informative, packed with both subject knowledge and practical solutions to enable schools to reflect on their approach to teaching Maths through the EYFS and into Year 1 – whether through a scheme or not – and will examine the principles that underpin this early learning and the key steps towards progression and mastery.
Benefits:
Explore effective strategies for teaching early Maths

Develop a clear understanding of progression in learning through EYFS and beyond

Consider the role of the adult in developing language, problem solving and reasoning

Gain practical ideas for the effective use of key resources
---
Developing Young Mathematicians: Laying Important Foundations in the Journey to Mastery
This full day session will support staff to develop a clear understanding of the principles of teaching early maths and explore the most effective strategies for approaching Maths with young children. Thought provoking messages will be shared about laying the foundations for Maths and the importance of these in the journey to mastery. Help to evaluate the effectiveness of current provision in maximising mathematical learning opportunities will be a focus.
Audience: Senior Leaders, Maths Leads, EYFS Leads & Teachers
Cost: £175 (exc. VAT)
Time: 9.30am-3.30pm
---
Embedding Maths in Provision: A Practitioners Guide to Everyday Maths 
Bring your team along for a learning walk through our Interactive Environment and gain a shared experience of best practice. This guided tour offers time for reflection and an opportunity to discuss how well your environment supports children's mathematical thinking.
You will reflect on how provision enables children to explore maths in meaningful contexts and gain many ideas about how to plan and place resources – as well as introduce and use resources effectively to offer sufficient challenge.
Audience: Maths Leads, EYFS Leads & EYFS Teams
Cost: £35 (exc. VAT)
Time: 3.45pm – 4.45pm
---
Date and Venues
Tuesday 17th November – Yew Lodge Hotel, Derby
Wednesday 18th November – Mecure Birmingham West, Birmingham
Thursday 19th November – Histon Early Years Centre, Cambridge
Friday 20th November – Holiday Inn, Norwich
Tuesday 24th November – Ramside Hall, Durham
Friday 27th November – EEx Northern Centre, Huddersfield
Tuesday 1st December – Hilton, Reading
Wednesday 2nd December – Ibis Southwark, London