Date: January 17, 2023
Storming It Outdoors! The Fantastic Possibilities of Cold, Wet & Windy Weather
Outdoor Learning – Big Coat Weather
There's no getting away from it. After weeks of wet and windy weather bringing squelchy mud, the outdoor learning in the Summer is fast becoming a distant memory. Not only that, if one thing is for certain, it's that the cold, wet and windy weather is here to stay for quite a while. If we're waiting for storms to pass, we may well be waiting for quite a long time!
This famous quote:
"Life isn't about waiting for the storm to pass. It's about learning how to dance in the rain"
is a good one to have in mind at this time of year – when you are thinking about outdoor learning for EYFS or KS1. So, as we reach for our big coats it's also a good time to reflect on how we use these changes in the weather as part of our practice.
So, how do you get ready for outdoor learning – whatever the weather?
Even the process of getting ready to go outside at this time of year can offer lots of valuable learning experiences for EYFS and KS1 children – and if you've got the space to create one, its good practice to make a transition area between indoor and out where the children access waterproofs and wellies themselves. This is great for developing independence. And, if you are lucky enough to have a covered area leading into your outdoor learning space, then part of this could be developed into a transition area.
It's certainly well worth thinking through the processes involved in getting ready to go outside in wet weather. A bench to sit on, wellingtons labelled by size, shoe storage and named pegs to attach shoes together will help it run smoothly and offer meaningful learning experiences. Easy to access wet weather jackets and trousers for children in the early years will also offer warmth and protection in the worst of conditions so make sure you have enough available.
So now we're all togged up and ready for the big outdoors! What next?
To be available throughout the year, your resources will need to withstand the cold, wet and windy weather too.
Keep using your building materials but check them for safety and sustainability.
Collections of crates, tarpaulins and fastenings are ideal, as in rainy weather EYFS and KS1 children have the perfect motivation to build a den or shelter! The size and scale of the resources really ought to be physically challenging to the children – so think big. The activity of lifting, carrying, constructing and balancing materials means that children are on the move all the time and this should keep them warm!
Water play can continue too but will need to be practical for this time of year. It's probably best to avoid having a water tray outdoors as this won't be as inviting once the weather gets cold and takes time for adults to fill or keep clean. Instead, long pieces of tubing and guttering alongside a range of large containers, such as buckets and watering cans offers more active possibilities and keeps children on the move.
And of course there are plenty of ways to make a splash!
Through autumn and winter, there's much outdoor learning to explore. Rainfall provides a wonderfully tactile way of exploring water in a different context. Standing in, walking through and splashing in puddles will provide meaningful opportunities for children to explore new experiences and develop new vocabulary too. You might want to put together a rainy-day box or a collection of resources which will be perfect for using in the rain. Long handled brushes are perfect for sweeping the puddles to create waves and streams.
If you're looking for ideas of what to include in a rainy-day box, try:
Chalk for marking the depth of a puddle onto wellington boots or drawing around a puddle to see how quickly it dries.
Paint and brushes for mixing in puddles. This can be a great context for colour mixing, but watch out that children don't stray too far as it makes a bit of a mess!
Adding materials that float or can be made into boats can be interesting too, another way to use puddles or running water
Umbrellas are also a great resource for rainy days – and experimenting with the sound of the rain on different surfaces is interesting so provide these. For example, placing a piece of kitchen foil over the top of an umbrella and listening for the pitter patter of raindrops.
There are lots of possibilities for outdoor learning in windy, icy, and frosty days too. For example, a collection of kite making materials can lead to fantastic physical engagement on the windiest of days. In icy spells, leaving different shaped shallow containers in your outdoor space will allow rainfall to collect and turn to sheets of ice. At this point, explore with the children how to melt the ice quickly by adding salt or warmth. Ice is also a great material for artwork and sculpture. The children will enjoy mark making on different surfaces with pieces of ice and you might want to share some of Andy Goldsworthy's stunning ice sculptures.
So overall the message is – get ready. Organise your ideas and resources for these predictable types of weather so that when the weather does change, you are fully prepared to make the most of outdoor learning. And don't forget that adults need to stay warm and dry too – so make sure you have the right clothes on and have access to warm fleeces or waterproof coats.
And finally – just go for it, don't wait for the weather to get warmer and drier, get yourself ready and your outdoor area will go down a storm!
---
Find out more
Discover our Guide to Outdoor Provision which explores all aspects of quality practice from underpinning principles, resources and routines through to the role of the adult. You can also find sample guides on our ideas & inspiration page.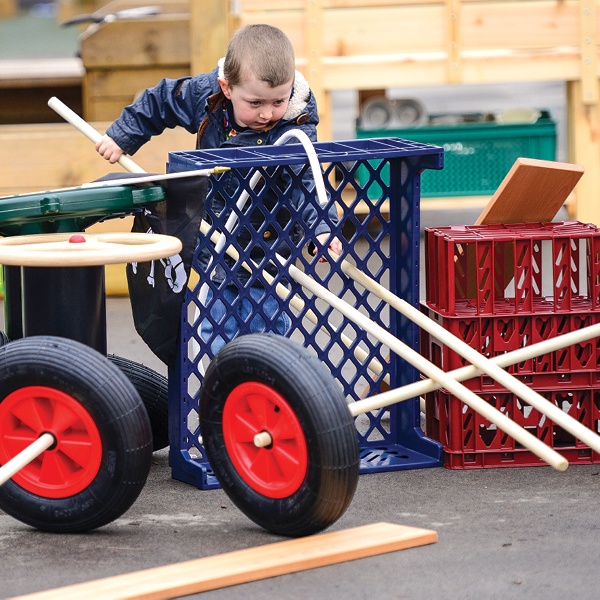 Explore our full range of outdoor solutions and unique resource collections in our Webshop, or order our latest Product Brochure dedicated to supporting you create outstanding provision.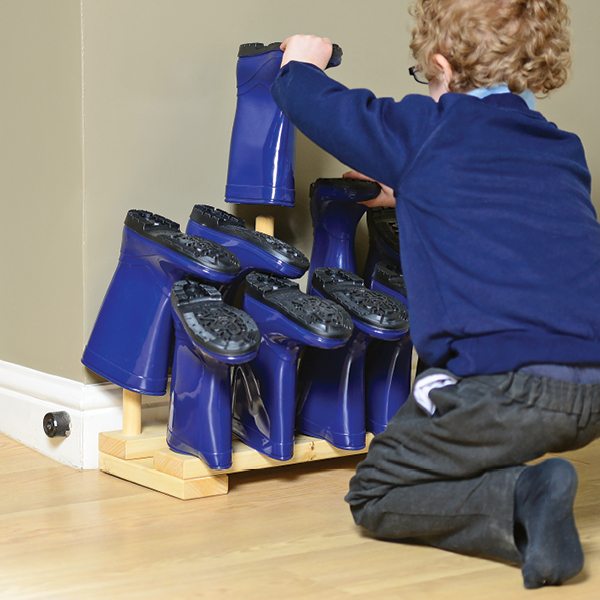 Take a look at our Wellies & Waterproofs webinar or download our updated Outdoor Audit Tool which will help you to reflect on how best to develop your environment as the seasons unfold.
Related Podcast Episode
You can engage with us @earlyexcellence on our social media channels and don't forget to visit our website regularly to find forums, workshops and twilight training courses to inspire you – as well as our Early Years Resources Shop.