Date: July 31, 2020
Developing Domestic Role Play – Case Study
In our recent Early Excellence Blog we explored the vital importance of talk in EYFS classrooms and how high quality role play supports children as they experiment with language, allowing vocabulary to flourish in meaningful contexts. Below you will find a case study from St Gregory's Catholic School, Margate, looking at how developing their domestic role play enabled enhanced learning opportunities to match the children's interests.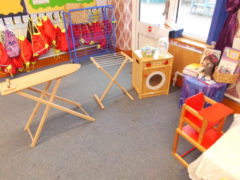 Before joining the Early Excellence Transformation Project, 2016-2017 we provided a range of role play experiences for our children through the year, such as doctors surgeries or hairdressers. We then began to consider how it might be difficult for many children to access these in any depth due to their limited experiences, so we began to work on developing a permanent domestic role p
lay area.
We changed the role play areas in both our nursery and reception classrooms into domestic role play and resourced these with real life objects. The children were provided with real clothes so that they could be the adults that they see in everyday life and this also had the effect of reducing the rough play associated with the superhero costumes that we had previously used. We put up wallpaper in these areas so that there was a real distinction between them and the rest of the classroom and to make it look more like a home. We added photographs of the children as well as everyday objects that they would find in their homes. 
We wanted to make sure that we included lots of learning opportunities linked to realistic home experiences; we added noticeboards, take away leaflets, recipe books and story books for example. Our Reception children soon began putting the baby's pyjamas on before reading them a bedtime story (whilst demonstrating their phonics learning). Laying the table for mealtimes also proved a great way to count and to discuss position. One of the boys explained to his friends that they needed to "put the knife on the left, the fork on the right and the spoon at the top". In order to get the most out of the area, we realised that adults needed to join in with the children's play and model experiences and language. This also provides the children with the space to share experiences from home.
The children enjoy writing lists and menus or taking messages from phone calls- all while practising their writing skills without feeling that this is what they are doing! The children often ask for additional items to add to the area such as more baby clothes or food items. They are encouraged to write their requests as lists for me to take to the shops; another source of writing even for our most reluctant writers.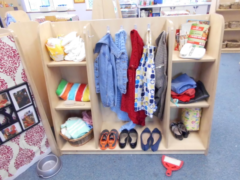 Since developing a permanent domestic role play area, I have realised how much more purposeful it is than any of the areas we created before. We have enhanced the area throughout the year to reflect the seasons and our children's experiences. This includes decorating it for Christmas and Chinese New Year. During these times, the children were able to discuss and explain what their own family traditions are and how these are not always the same for everyone.
As a faith school we also incorporated our reflection space into the home corner. This is a better reflection of the children's home experiences and makes the reflection space appear more welcoming to the children and increases how frequently they choose to use it.
Despite our changes, the children do continue to experience other forms of role play. We still enhance our learning opportunities to match the children's interests. When the children were showing an interest around doctors we provided them with a box of resources to make their own pop up doctor's surgery. This meant that they could play with what they were interested in whilst also keeping our continuous provision going with the domestic role play area and the two areas could be linked in their play when family members were ill.
There's a lot to consider and reflect on here. The importance of building on children's interests and experiences, using language to support vocabulary and thinking skills is a crucial part of the learning process.
Effective EYFS practice which combines this breadth of experiences with skilful adult interaction needs to be shared and celebrated!
You can engage with us @earlyexcellence on our social media channels where we would hear from you and don't forget to visit our website regularly to find forums, workshops and webinar training courses to inspire you – as well as our Early Years Resources Shop.
We'd love to hear from you!
Find out more
Over the coming months we will be hosting webinars and releasing a series of free planning guides, blogs and podcasts as well as our Online Training Programme to update you on the latest updates and practical guidance on supporting your youngest children and those working with them. Our Let's Talk Webinar has both live and recorded options available, focusing on language development as a priority and allowing children to successfully follow their own interests.
We also have our free webinar will focus on the importance of domestic role play. Packed with practical ideas, explore how to establish a high quality domestic role play area which reflects children's personal experiences and will provide rich opportunities across all areas of learning in the EYFS and into Year 1.
Our National Centre is now open to visitors every Tuesday, Wednesday and Thursday from 9am – 5pm. You can also visit us virtually, where you will find a highly informative interactive environment to look around with ideas for your classroom, lots of display ideas and an exhibition of children's work to inspire you.