Date: June 26, 2020
Block Play Alongside Small World Resources
Decisions you make about how you organise and arrange your classroom will have a big impact on the quality of the learning that occurs there. Well organised, well planned provision areas provide meaningful opportunities for independent exploration, effective interactions and focussed teaching. Some areas of provision and collections of resources are most effective when used in relation to others. One good example of this is the small world and block area.
So, what would this look like and how might it be organised?
Well, to get the best out of both areas, they should be situated together. In this way, children will be able to use the blocks to create their own story settings and scenes for the small world characters they choose. This will be far more effective than providing the children with a prepared or manufactured small world setting, such as a dolls' house or toy castle as it will engage them in the process of building, encourage them to share their ideas and talk about what they know and enable children to modify their ideas as they play.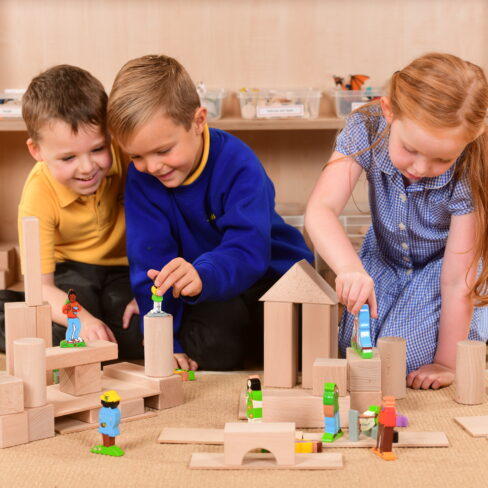 For small world and block play to be effective, you'll need a clearly defined area where children can access the resources as independently as possible. Create the space away from any high traffic areas in your classroom and provide enough room if possible, for large, elaborate buildings and story settings to take shape. A carpet or rug will deaden the noise and make the space more comfortable for the children to kneel.
Now, what about resources? You'll need a good selection of wooden blocks which offer lots of possibilities for exploration and discussion. The blocks should be of different sizes and should also include a wide range of mathematically regular shapes: cubes, cuboids, cylinders, cones – as well as more unusual ones such as reels or natural wooden pieces. In addition to this, you might want to add different shapes and sizes of wooden boards so that the children can link towers together and also create floors within buildings. As you're planning this space, you might also want to consider other materials to spark the children's curiosity and imagination. Mirrored or clear perspex blocks, wooden arches and doorways can be a great imaginative starting point for young children's ideas. You might also want to consider reclaimed materials such as cardboard cylinders, buttons and plastic reels; the more open-ended the better!
Now we'll need to consider how these blocks are stored and organised in order to promote independence and to maximise the number of learning opportunities provided. Ideally, blocks should be stored directly onto an open shelf so that the children can readily access them. Shadow backing on each shelf promotes easy access and, done well, can lead to discussions around shapes and their properties. For this you'll need a roll of sticky backed plastic; this can be cut out and stuck directly onto a shelf to provide a place for each shape of block. Store some shapes together so that the children are encouraged to recognise both the parts and the whole. For example, two semi -circular, arched shapes placed together will create a circular shape.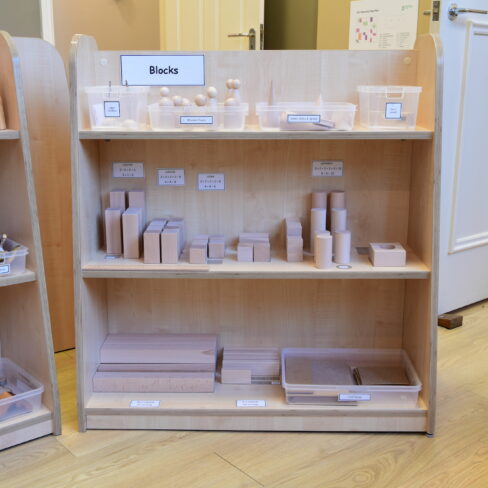 For a Key Stage One Block area, labelling could include a further degree of challenge. In this way, you might include cylinders set out as an array (labelled as 3 + 3 +3 etc): measurements can be included effectively too: cylinders could be labelled as 15cm cylinders or 10 cm cylinders, for example. With effective adult support, this level of detail promotes discussion and the use of correct terminology.
As the children's ideas develop, and as they become particularly interested in themes or concepts, you'll want to enhance your provision with other materials to challenge their thinking further. Collections of big rolls of paper and pens, when modelled by an adult, are a great way of engaging the children in story mapping and writing as part of small world and block play. At other times, mirrors or different light sources can prompt further explorations of reflection, light and shadow.
And what about the adults? Well, if we've thought through all the learning opportunities in such a detailed way, then it's also important to consider the adult role in this space too. Well planned resources and experiences provide a range of learning opportunities but these need to be maximised by the adults in the setting. Adults should use the correct names of shapes when talking about the block area and engage with the children's ideas within this space. Consider where there are times in the day for the children to talk about what they plan to do or to review what they have already done within this space. Conversations like these are an opportunity to celebrate and value their learning and can take children's learning to a new level, reinforcing new vocabulary and challenging their ideas and concepts.
Key questions to ask yourself:
How often does your team engage with children in this area throughout the day?
Do adults use the space, when appropriate, for directed activities including maths and literacy?
Do they facilitate and support the children's learning in the small world and block area on a regular basis?
Are children's ideas in the small world and block area seen as stories and celebrated as such?
Lots to think about! Our audit tool of small world resources is a great place to start if you're not sure which small world figures, characters and creatures should be available for the children to use alongside the blocks. If you are looking to plan your areas of provision, order our GUIDE TO CONTINUOUS PROVISION today.
This fully illustrated guide with planning documents includes:
A three-part illustrated overview of what, why and how
A useful set of discussion points to support the review of current provision
A full set of Continuous Provision Plans, one for each area
Guidance on how to use the plans with your team
Blank formats to help you create your own plans
Let us know how you get on! You can share your photos with us on Twitter, Facebook, Pinterest or Instagram.
We also offer our EYFS and KS1 CPD webinar programmes which explore key principles of continuous provision and consider how an effective environment, carefully planned and organised, promotes a broad range of learning opportunities for children.
Our Northern Centre will be re-open from 24th August, where you will find a highly informative interactive environment to look around with ideas for your classroom, lots of display ideas and an exhibition of children's work to inspire you – and an amazing Resource Shop with high quality, books, play resources and educational artefacts to buy. Due to the limited number of people allowed in the environments at once, we are taking bookings to enable us to adhere to covid guidance.
To arrange a visit to the Northern Centre please contact our team:
Phone: 44 (0) 1422 311314
Email: admin@earlyexcellence.com
We also have our Back to School: Planning Your Environment Webinar available where you can develop your vision for a vibrant learning environment and review and evaluate your current classroom layout.
Discover our Get Equipped Indoors 2019/20 brochure.
You can engage with us @earlyexcellence on our social media channels where we would hear from you and don't forget to visit our website regularly to find forums, workshops and webinar training courses to inspire you – as well as our Early Years Resources Shop.
We'd love to hear from you!