The Future of Baseline: What you Need to Know
The Department for Education (DfE) has now responded to the Primary Assessment consultation. Their conclusions and recommendations raise significant challenges for teachers and leaders of the Reception Year (YR).
The DfE plan to introduce a literacy and maths test for 4yr olds as they enter YR and they will be reducing the EYFSP in order to link it more closely to KS1 literacy and maths – do you sense the direction of travel!
Early Excellence are keen for schools to make their views of testing 4yr olds know – we will certainly be shouting out about it as, whilst we have always agreed with the importance of an on-entry baseline, we do not agree that 'tests' for 4yr olds are an accurate way of assessing attainment on entry, or that literacy and maths alone give a useful picture of early development.
It is critical that we continue to promote the importance of children's physical development, social and emotional development as well as their language skills – which are vital for overall development and have a clear link to later success in literacy and maths – something the government seem determined to ignore.
Over the next few months we will be publishing many new articles on the subject of early years assessment to inform your perspective and here are the first of these: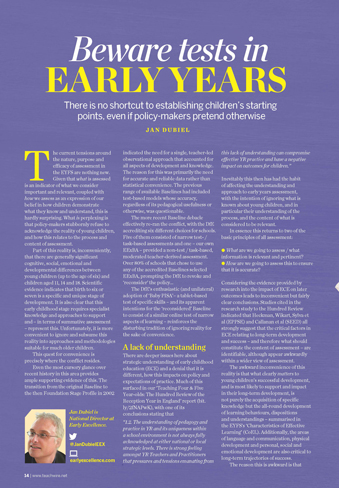 Read Jan Dubiel's article 'Beware Tests in Early Years'
If a new National Baseline does become a reality it will not be in place until Sept 2019 – at the earliest – which means that schools can continue to use EExBA, the Early Excellence Baseline Assessment in September 2018 – and we would encourage you to do this to secure your year on year data.