Early Excellence National Conference 2019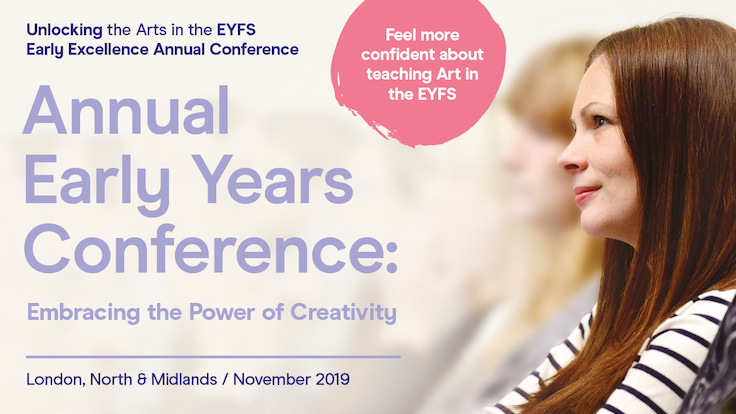 Unlocking Children's Potential: Embracing the Power of Creativity
Huddersfield 18th or 19th November
London 26th November
Birmingham 27th November
Join us for the Early Excellence Annual Conference in the North, Midlands and London as we explore the power of creativity in its many guises.  We will be delving into all aspects of the Arts and finding out how a curriculum rich in these experiences can ignite imaginations and fuel powerful learning.
The day is packed with influential speakers who will inspire and inform our practice, including Baroness Floella Benjamin, OBE DL, who (as well as being a well-loved children's television presenter of old) represents in the House of Lords issues that affect children, diversity, media and equality.
We also hear from Pete Moorhouse and Anni McTavish, leading educationalists and passionate advocates of the Arts – as well as Emma-Jo Bairstow who works with schools to develop the teaching of Art in the classroom.
Pablo Picasso described every child as an artist – and our challenge is to ensure we enable this to flourish as each child grows!
From national policy to classroom practice – this will be a day of delights focused on expanding the use of the Arts to deeply enrich learning in early childhood and beyond!
---
Choose your date and venue:
Tue 26th Nov – Bishopsgate Institute, London

Wed 27th Nov – Fazeley Studios, Birmingham
Price and time:
£200 (exc. VAT) per person

9.00am – 3.45pm
Discounts available:
Early Bird Discount – Book by 31st October and gain a 20% discount. Use code: EBCONF19
Group Booking – Book a table of 10 and one goes free. Early Bird discount can also be applied. Use code: GBCONF19
EExAT Users 25% off. Please see EExAT newsletters and/or your dashboard for your Conference discount code.
---
Book Now