Autumn National Briefing 2019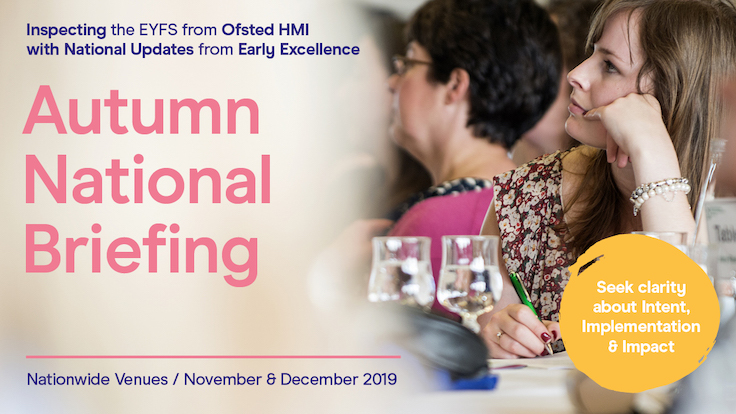 Half Day Briefing
Join the Autumn National Briefing for Heads, Senior and EYFS Leaders, as well as LA and MAT colleagues, and gain vital updates about school inspection, national policy and its implementation.
During the Briefing you will gain an overview of the latest information about changes to ELGs, the new Baseline and the work taking place to replace Development Matters with new Curriculum Guidance – along with insight from Ofsted's HMI about inspecting YN and YR under the new framework.
With major national developments on the horizon and the new Ofsted Inspection Framework being introduced in schools and settings from September, this is an ideal time to be in the know and take stock of what this means for you and your school.
Benefits:
Be fully up dated on national policy and it's implications for the EYFS and Primary Years

Develop a clear understanding, directly from Ofsted's Senior Inspectors, of the issues raised by the new inspection framework and focus on curriculum

Find out how schools are meeting the new expectations of Intent, Implementation and Impact and what we can learn so far
Briefing Audience:
Heads, Senior and EYFS Leaders,
LA and MAT colleagues
---
Choose your date and venue
Wed 20th Nov PM – Midlands, Yew Lodge Hotel, Derby
Price and time:
£95.00 (exc. VAT) per person

Half Day – 1.00pm – 4.00pm
Book now and secure your place
Book two places or more and receive a discount of £10p/p when you enter code nba19 at the checkout.