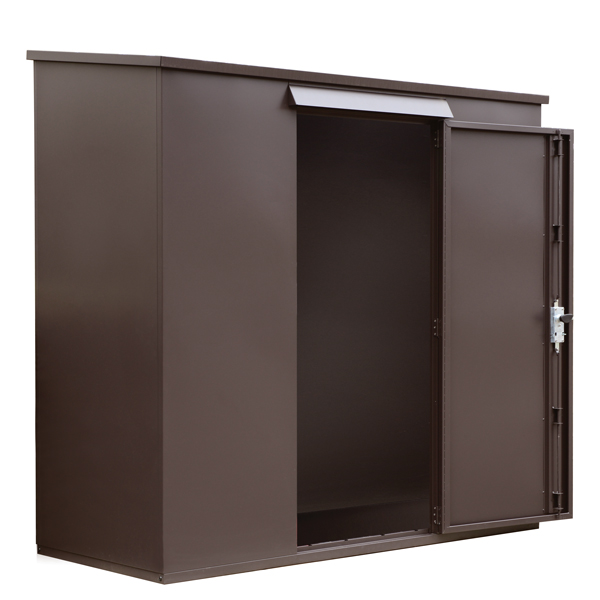 Modular Outdoor Store
Description
Our Modular Outdoor Store is empty for you to customise your own storage or fill with other resources.
Specifications
All-metal weatherproof storage unit:
– Height at the back 2110mm (6′ 9″)
– Width 2200mm (7′ 2″)
– Depth 950mm (3′ 1″)
– Weight 142kg (22.5st)
Door aperture:
– Height 1760mm (5′ 9″)
– Width 760mm (2′ 5″)
Base size required:
– Width 2350mm (7′ 8″)
– Depth 1100mm (3′ 7″)
Features
– Robust three-point locking system, with a drill resistant Euro Cylinder Lock.
– Fully integral metal base, for added strength and security.
– Reinforced door, roof and panels for security.
– Pack of ten strong hooks for hanging items off the floor inside the unit.
– Pack of six heavy duty shelves, for storing items inside the unit.
– Integral rain guard for extra protection from the elements.
– Available in green or brown.
– Ten year warranty.
Delivery & Assembly
– Free of charge UK mainland delivery direct from the manufacturer.
– Assembly and installation by the manufacturer's dedicated team.
– Anchoring of the unit to your level base by the manufacturers, giving increased security.
Please note:
Before installation can take place, a level, firm surface will be required. The units are a full steel product and extremely heavy so it is important that they are built on a firm, level surface such as concrete, tarmac or paving slabs 50mm (2″) thick. The fitters will bolt the unit down for additional security. Site visits are not made prior to installation, as the outdoor store is so easy to install providing you have a firm, level surface. If you are concerned about your space or the base the store is going on, please contact us on 01422 311 314.