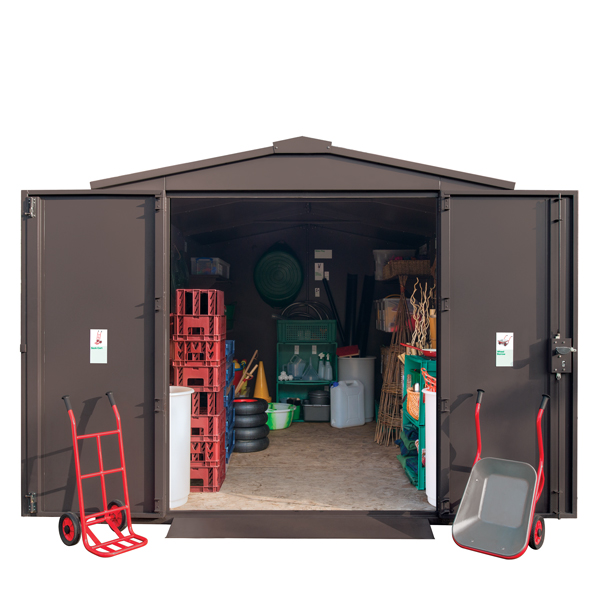 Large Outdoor Classroom
Description
Our Large Outdoor Classroom is fully installed in your chosen outdoor area free of charge. It comes complete with twelve provision collections: Building & Constructing, Den Building, Water Play, Mud Kitchen, Digging & Gardening, Playing Games, Weaving, Natural Materials, Small World, Real Life and Superhero Role Play as well as Movement, Wind & Air. Classroom includes all of the storage containers and labels you need to organise the resources effectively.
The resources fit the space perfectly with the larger collections around the sides and the smaller collections placed higher up on the shelves and hooks. The Large Outdoor Classroom includes all of the storage containers and labels you need to organise the resources
effectively.
Download
Large Outdoor Classroom Guide
Specifications
All-metal weatherproof storage unit:
– Height 2072mm (6′ 8″)
– Width 2240mm (7′ 4″)
– Depth 3330mm (10′ 11″)
– Weight 433kg (68.3st)
Door aperture:
– Height 1690mm (5′ 6″)
– Width 1420mm (4′ 7″)
Base size required:
– Width 2410mm (7'10")
– Length 3790mm (12′ 5″)
Features
– Robust five-point locking system, with a drill resistant Euro Cylinder Lock.
– Fully integral metal base, for added strength and security.
– Reinforced doors, roof and panels for security.
– Child-friendly wooden sub-floor (three sections), sits on internal metal floor.
– Pack of ten strong hooks for hanging items off the floor inside the unit.
– Pack of six heavy duty shelves, for storing items inside the unit.
– Easy fit access ramp, great for loading heavy items.
– Available in green or brown.
– Ten year warranty.
Delivery & Assembly
– Free of charge UK mainland delivery direct from the manufacturer.
– Assembly and installation by the manufacturer's dedicated team.
– Anchoring of the unit to your level base by the manufacturers, giving increased security.
Please note:
Before installation can take place, a level, firm surface will be required. The units are a full steel product and extremely heavy so it is important that they are built on a firm, level surface such as concrete, tarmac or paving slabs 50mm (2″) thick. The fitters will bolt the unit down for additional security. Site visits are not made prior to installation, as the outdoor store is so easy to install providing you have a firm, level surface. If you are concerned about your space or the base the store is going on, please contact us on 01422 311 314.