Leadership Courses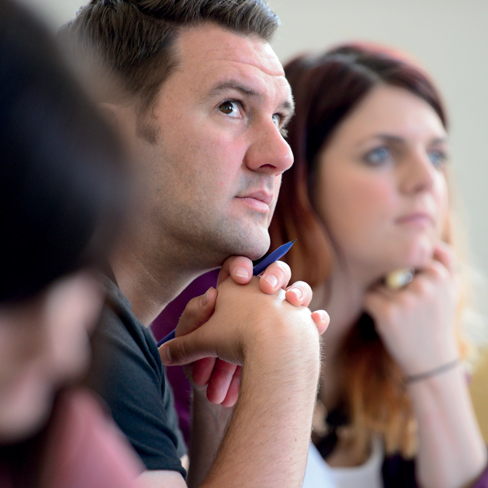 This broad range of leadership courses provides opportunities for senior leaders to address key aspects of practice and resolve complex issues. Informative and inspiring, they will enable leaders to monitor and support effective approaches in EYFS and KS1.
Early Bird Discount available on courses indicated with an asterisk (*) if booked before 30th of April.
Download our new summer term CPD brochure.
Gathering Evidence: Preparing for Successful Moderation of the EYFS Profile Workshop – Northern Centre
Workshop
28 Apr
£55.00

Gathering Evidence: Preparing for Successful Moderation of the EYFS Profile Workshop – Northern Centre

Course description

With the EYFS profile remaining in place this current academic year, it is essential that practitioners feel confident that the judgments they are making about children's attainment against the ELG's are secure. This half day workshop will explore the principles behind gathering a rich evidence set to inform these decisions. Drawing on practical examples of best practice, we will consider the different sources of evidence that can help teachers to confidently assess children's levels of attainment and feel well prepared for sharing this information with others.

Benefits

A clear understanding of how evidence supports with judgement attainment in the EYFS.
Confidence to better share these outcomes.
Practical ideas to support with evidence gathering.

Led by

Early Excellence Consultant

Audience

Assistant Heads, EYFS Leaders & Co-ordinators

Venue, Date & Time

Northern Centre

Friday 28th April,

10.00am – 12.00pm

Book Now
How to Strategically Lead Outstanding Teaching in KS1 – Northern Centre*
One Day
19 May
£150.00

How to Strategically Lead Outstanding Teaching in KS1 – Northern Centre*

Course description

School effectiveness is judged not only on the quality of teaching and the impact it has on outcomes, but on the way leaders strives to ensure excellence for every child.

This in-depth one day course will focus on how KS1 leaders create and embed a vision for learning and teaching which enables excellence for all learners. During the day you will consider a range of evidence based approaches to enable quality teaching and learning. The course will explore how to build a culture of excellence and develop consistency of quality and practical tools to help you achieve your vision.

Benefits

A clear understanding of the key features of outstanding KS1 practice.
Strategies to support with leading the development of others.
Greater confidence as a KS1 leader.

Course type

One Day Course

Led by

Ruth Swailes National Leadership Consultant

Price

£150.00 exc. VAT – Includes 25% off Early Bird Discount if booked before 30th of April

Audience

Headteachers, Senior Leaders & KS1 Leaders

Venue, Date & Time

Northern Centre

Friday 19th May,

9.30am – 3.30pm

Book Now
How to Strategically Lead Outstanding Teaching in KS1 – London Centre*
One Day
26 May
£150.00

How to Strategically Lead Outstanding Teaching in KS1 – London Centre*

Course description

School effectiveness is judged not only on the quality of teaching and the impact it has on outcomes, but on the way leaders strives to ensure excellence for every child.

This in-depth one day course will focus on how KS1 leaders create and embed a vision for learning and teaching which enables excellence for all learners. During the day you will consider a range of evidence based approaches to enable quality teaching and learning. The course will explore how to build a culture of excellence and develop consistency of quality and practical tools to help you achieve your vision.

Benefits

A clear understanding of the key features of outstanding KS1 practice.
Strategies to support with leading the development of others.
Greater confidence as a KS1 leader.

Course type

One Day Course

Led by

Ruth Swailes National Leadership Consultant

Price

£150.00 exc. VAT – Includes 25% off Early Bird Discount if booked before 30th of April

Audience

Headteachers, Senior Leaders & KS1 Leaders

Venue, Date & Time

London Centre

Friday 26th May,

9.30am – 3.30pm

Book Now
How to Strategically Lead Outstanding Teaching in the EYFS – Northern Centre
One Day
15 Jun
£200.00

How to Strategically Lead Outstanding Teaching in the EYFS – Northern Centre

Course description

The quality of teaching in the early years is greatly enhanced by the knowledge of leaders in supporting and challenging best practice. This course will outline the important features of outstanding practice in the early years. It will offer leaders the opportunity to discuss how outstanding teaching can be enabled and how it should be monitored.

By the end of the course delegates should feel more confident as advocates for the education experiences of the youngest children in their schools and better equipped to lead and develop practice across their team.

Benefits

A clear understanding of the key features of quality early years practice.
Strategies to support with leading the development of others.
Greater confidence as an early years leader.

Course type

One Day Course

Led by

Prof Julie Fisher, National Consultant

Price £200.00 exc. VAT

Additional Delegate
£150.00 exc. VAT

Audience

Headteachers, Senior Leaders & EYFS Leaders

Venue, Date & Time

Northern Centre

Thursday 15th June,

9.30am – 3.30pm

Book Now
How to Strategically Lead Outstanding Teaching in the EYFS – London Centre
One Day
17 May
£200.00

How to Strategically Lead Outstanding Teaching in the EYFS – London Centre

Course description

The quality of teaching in the early years is greatly enhanced by the knowledge of leaders in supporting and challenging best practice. This course will outline the important features of outstanding practice in the early years. It will offer leaders the opportunity to discuss how outstanding teaching can be enabled and how it should be monitored.

By the end of the course delegates should feel more confident as advocates for the education experiences of the youngest children in their schools and better equipped to lead and develop practice across their team.

Benefits

A clear understanding of the key features of quality early years practice.
Strategies to support with leading the development of others.
Greater confidence as an early years leader.

Course type

One Day Course

Led by

Prof Julie Fisher, National Consultant

Price £200.00 exc. VAT

Additional Delegate
£150.00 exc. VAT

Audience

Headteachers, Senior Leaders & EYFS Leaders

Venue, Date & Time

London Centre

Wednesday 17th May,

9.30am – 3.30pm

Book Now
Telling the Story: How to Successfully Demonstrate Progress in the EYFS – Northern Centre*
One Day
09 Jun
£150.00

Telling the Story: How to Successfully Demonstrate Progress in the EYFS – Northern Centre*

Course description

The need to be accountable for the impact we have on children's learning and development presents particular challenges in the EYFS. It is important to be able to demonstrate the increased mastery, confidence, knowledge, understanding and application that children develop as a result of our pedagogy and provision. Current national statutory requirements make it clear that, within certain parameters, schools and settings do have some flexibility and autonomy with which to articulate the progress and development that children make.

During an OFSTED inspection, it is critical that the accuracy and authenticity of children's learning and development is appropriately described and that it is understood by the Inspector. Ofsted's requirements for demonstrating progress in the EYFS clearly indicate that the onus for this description lies with the school. This course will assist practitioners and leaders in developing the 'language' of articulating this accurately and within the requirements of an OFSTED inspection.

Benefits

Clarification of the existing national requirements and guidance for demonstrating progress in the EYFS.
Understanding of principles that underpin the identification of significant aspects of children's learning and development.
Greater knowledge of approaches and systems that can accurately reflect children's progression and the impact of effective practice, provision and pedagogy.
Practical guidance to help articulate evidence.

Course type

One Day Course

Led by

Ruth Swailes National Leadership Consultant

Price

£150.00 exc. VAT – Includes 25% off Early Bird Discount if booked before 30th of April

Audience

Headteachers, Senior Leaders & EYFS Leaders

Venue, Date & Time

Northern Centre

Friday 9th June,

9.30am – 3.30pm

Book Now
Telling the Story: How to Successfully Demonstrate Progress in the EYFS – London Centre*
One Day
15 Jun
£150.00

Telling the Story: How to Successfully Demonstrate Progress in the EYFS – London Centre*

Course description

The need to be accountable for the impact we have on children's learning and development presents particular challenges in the EYFS. It is important to be able to demonstrate the increased mastery, confidence, knowledge, understanding and application that children develop as a result of our pedagogy and provision. Current national statutory requirements make it clear that, within certain parameters, schools and settings do have some flexibility and autonomy with which to articulate the progress and development that children make.

During an OFSTED inspection, it is critical that the accuracy and authenticity of children's learning and development is appropriately described and that it is understood by the Inspector. Ofsted's requirements for demonstrating progress in the EYFS clearly indicate that the onus for this description lies with the school. This course will assist practitioners and leaders in developing the 'language' of articulating this accurately and within the requirements of an OFSTED inspection.

Benefits

Clarification of the existing national requirements and guidance for demonstrating progress in the EYFS.
Understanding of principles that underpin the identification of significant aspects of children's learning and development.
Greater knowledge of approaches and systems that can accurately reflect children's progression and the impact of effective practice, provision and pedagogy.
Practical guidance to help articulate evidence.

Course type

One Day Course

Led by

Ruth Swailes National Leadership Consultant

Price

£150.00 exc. VAT – Includes 25% off Early Bird Discount if booked before 30th of April

Audience

Headteachers, Senior Leaders & EYFS Leaders

Venue, Date & Time

London Centre

Thursday 15th June,

9.30am – 3.30pm

Book Now
Being One Step Ahead: Preparing for Section 8 Inspection – Northern Centre*
One Day
23 Jun
£150.00

Being One Step Ahead: Preparing for Section 8 Inspection – Northern Centre*

Course description

With most schools now having a one day OFSTED inspection, being prepared has never be more important. Section 8 inspections have a particularly strong focus on Leadership, especially the head teacher, and is therefore critical for school leaders to have a secure knowledge of pupil outcomes and the quality of provision in the EYFS; which they can swiftly access and articulate.

Drawing on first-hand experience of Section 8 inspections, this essential course will look in detail at the inspection process, support strategic planning and evaluation of the EYFS; enabling leaders to feel confident that they are as prepared as possible.

Benefits

Confidence in evaluating your early years.
Clarity of the Section 8 process.
Examples of effective self-evaluation and supporting frameworks.

Course type

One Day Course

Led by

Ruth Swailes National Leadership Consultant

Price

£150.00 exc. VAT – Includes 25% off Early Bird Discount if booked before 30th of April

Audience

Headteachers & Senior Leaders

Venue, Date & Time

Northern Centre

Friday 23rd June,

9.30am – 3.30pm

Book Now
Being One Step Ahead: Preparing for Section 8 Inspection – London Centre*
One Day
26 Jun
£150.00

Being One Step Ahead: Preparing for Section 8 Inspection – London Centre*

Course description

With most schools now having a one day OFSTED inspection, being prepared has never be more important. Section 8 inspections have a particularly strong focus on Leadership, especially the head teacher, and is therefore critical for school leaders to have a secure knowledge of pupil outcomes and the quality of provision in the EYFS; which they can swiftly access and articulate.

Drawing on first-hand experience of Section 8 inspections, this essential course will look in detail at the inspection process, support strategic planning and evaluation of the EYFS; enabling leaders to feel confident that they are as prepared as possible.

Benefits

Confidence in evaluating your early years.
Clarity of the Section 8 process.
Examples of effective self-evaluation and supporting frameworks.

Course type

One Day Course

Led by

Ruth Swailes National Leadership Consultant

Price

£150.00 exc. VAT – Includes 25% off Early Bird Discount if booked before 30th of April

Audience

Headteachers & Senior Leaders

Venue, Date & Time

London Centre

Monday 26th June,

9.30am – 3.30pm

Book Now
Telling the Story: How to Successfully Demonstrate Progress in KS1 – Northern Centre*
One Day
03 Jul
£150.00

Telling the Story: How to Successfully Demonstrate Progress in KS1 – Northern Centre*

Course description

Schools that know themselves well move forward with confidence and effective strategic planning and review ensures that all they do is fit for purpose. This course, for headteachers and senior leaders, will develop your leadership strengths and skills and focus on the most effective approaches for leading improvement and monitoring at KS1, including building on children's learning and progress at the EYFS.

The new inspection schedule places a great deal of emphasis on pupil progress. Leaders can feel uncertain and may lack confidence to discuss progress and attainment across KS1. Through activities and thought provoking discussions this course is designed to give you greater confidence in evidencing and articulating children's progress. You will end the day able to talk about children's progress with confidence, using data to support school improvement.

Benefits

A clear understanding of how to use data more effectively.
Greater confidence in articulating progress.
Practical strategies to support the development of assessment procedures.

Course type

One Day Course

Led by

Ruth Swailes National Leadership Consultant

Price

£150.00 exc. VAT – Includes 25% off Early Bird Discount if booked before 30th of April

Audience

Headteachers, Senior Leaders & KS1 Leaders

Venue, Date & Time

Northern Centre

Monday 3rd July,

9.30am – 3.30pm

Book Now
Telling the Story: How to Successfully Demonstrate Progress in KS1 – London Centre*
One Day
05 Jul
£150.00

Telling the Story: How to Successfully Demonstrate Progress in KS1 – London Centre*

Course description

Schools that know themselves well move forward with confidence and effective strategic planning and review ensures that all they do is fit for purpose. This course, for headteachers and senior leaders, will develop your leadership strengths and skills and focus on the most effective approaches for leading improvement and monitoring at KS1, including building on children's learning and progress at the EYFS.

The new inspection schedule places a great deal of emphasis on pupil progress. Leaders can feel uncertain and may lack confidence to discuss progress and attainment across KS1. Through activities and thought provoking discussions this course is designed to give you greater confidence in evidencing and articulating children's progress. You will end the day able to talk about children's progress with confidence, using data to support school improvement.

Benefits

A clear understanding of how to use data more effectively.
Greater confidence in articulating progress.
Practical strategies to support the development of assessment procedures.

Course type

One Day Course

Led by

Ruth Swailes National Leadership Consultant

Price

£150.00 exc. VAT – Includes 25% off Early Bird Discount if booked before 30th of April

Audience

Headteachers, Senior Leaders & KS1 Leaders

Venue, Date & Time

London Centre

Wednesday 5th July,

9.30am – 3.30pm

Book Now