High Level Seminars at London & Northern Centres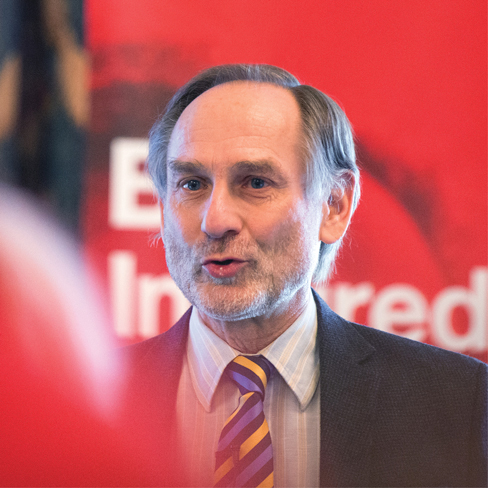 Big Thinking with Professor dr. Ferre Laevers
Well-being & Involvement: A Whole School Approach
The Leuven Scales of Well-being and Involvement have become widely recognised within the education sector as a vitally integral aspect of ensuring that children's needs – especially emotional and cognitive – are being met by provision. Implications that this provides for emotional and mental health – a subject high on the national agenda – as well as the quality of learning means discussion of this approach is more significant than ever.
In this thought provoking and inspiring seminar, Professor Laevers will explore how this approach can be extended to ensure its effective use in the early years and through into primary – and how these tools can be used to identify and overcome barriers to effective learning.
Don't miss out – places are limited and get booked up fast!
Download our full CPD Programme for Spring 2018
Spring & Summer 2018
The Language of Learning: A Practical Guide to Executive Functioning in the EYFS with Jan Dubiel
Seminar
Spr term
£95.00

The Language of Learning: A Practical Guide to Executive Functioning in the EYFS with Jan Dubiel

Course description

Research indicates that a young child's ability to self-regulate is a critical learning – and learnable – behaviour and one of the key indicators for long term success. To ensure a deeper understanding of the importance and impact of self-regulation, this seminar will explore its nature and its role in early childhood development. There will be a strong focus on how self-regulation can be 'taught' and supported in the EYFS and practical advice on how to ensure that approaches to pedagogy create meaningful and realistic opportunities for this.

Benefits

Understand the critical importance
of self-managing feelings, emotions and impulses
Gain practical advice about how self-regulation can be taught through meaningful pedagogy
Greater knowledge of self-regulation can be used to target the needs and dispositions of individual children

Course type

Half Day Seminar

Led by

Jan Dubiel, International Director

Audience

Headteachers, Senior Leaders, EYFS Leaders, Teachers

Venue, Date & Time

Northern Centre

Wednesday 14th February,

9.30am - 12.00pm

London Centre

Friday 2nd February,

9.30am – 12.00pm

Book Now
Inspirational Thinking with Professor dr. Ferre Laevers
Seminar
Spr term
£200.00

Inspirational Thinking with Professor dr. Ferre Laevers

Course description

Well-being & Involvement: A Whole School Approach
The Leven Scales of Well Being and Involvement have become widely recognised within the education sector as a vitally integral aspect pf ensuring that children's needs – especially emotional and cognitive – are being met by provision. Implications that this provides for emotional and mental health – a subject high on the national agenda – as well as the quality of learning means discussion of this approach is more significant than ever.

In this thought provoking and inspiring seminar, Professor Laevers will explore how this approach can be extended to ensure its effective se in the early years and through into primary – and how these tools can be used to identify and overcome barriers to effective learning.

Course type

High Level Seminar

Led by

Professor dr. Ferre Laevers

Additional Delegate

£150.00 exc. VAT

Audience

Heads, Deputy Heads, Senior Leaders, EYFS Leaders, Teachers

Spring 2018

Northern Centre

Wednesday 14th March,

9.30am – 3.30pm

London Centre

Friday 16th March,

9.30am – 3.30pm

Book Now
A Whole School Approach: Continuing Child-led Learning Through to KS2 with Prof. Julie Fisher
Seminar
Spr term
£200.00

A Whole School Approach: Continuing Child-led Learning Through to KS2 with Prof. Julie Fisher

Course description

Learning experiences in KS2 are almost always adult-led which can disempower some learners. To counteract this effect, this seminar, for headteachers, senior leaders, KS1 and KS2 co-ordinators, considers a whole school approach to learning by exploring a continuum of practical possibilities that enable older pupils to take control of some of their daily learning experiences.

Benefits

A clear understanding of the value and impact of a child-led ethos on learning
Useful frameworks to assist with planning for change
Examples of the impact this change has had in schools

Led by

Prof. Julie Fisher, National Consultant

Additional Delegate

£150.00 exc. VAT

Audience

Headteachers, Senior Leaders, KS1 and KS2 Coordinators

Summer 2018

Northern Centre

Friday 20th April,

9.30am – 3.30pm

London Centre

Thursday 10th May,

9.30am – 3.30pm

Book Now