Half Day Courses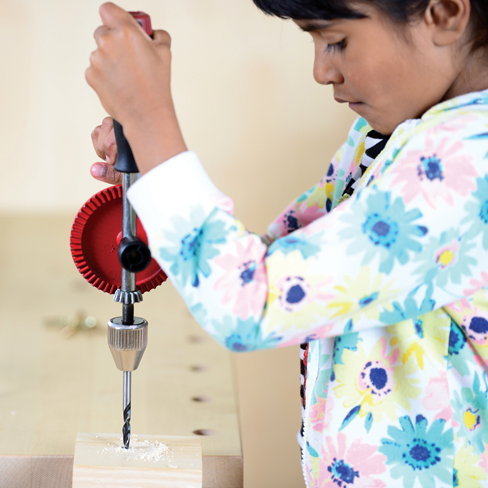 Our half day courses offer a unique opportunity to develop a good understanding of how children learn and how the quality of the learning environment impacts on outcomes. Led by our expert team of EYFS consultants, these practical sessions will help you to share best practice and develop lots of ideas to enrich teaching and extend learning.
Why not stay for lunch with colleagues after your training session –
just contact 01422 311 314 for menu details and to reserve a table.
Download our new summer term CPD brochure.
Taking a Fresh Look at Woodwork – London Centre
Half Day
06 Jun
£75.00

Taking a Fresh Look at Woodwork – London Centre

Course description

Woodwork is hugely popular and provides a rich source of enjoyment as well as learning. The impact is profound and long term. It allows children many opportunities including expressing their imagination, problem solving and sustained perseverance with challenging tasks. The learning outcomes have been remarkable and encompass all areas of the EYFS.

This practical workshop will look at ways in which woodworking can be safely introduced in your early years settings. There will be explanations of the most suitable tools for young children and instruction on how best to use them. We will look at the most suitable woods and consider suggestions for activities, open-ended explorations and longer term projects. There will also be practical sessions for practitioners to explore the tools, gain confidence and share the experience of making creations in wood.

Benefits

Understand the value and theory of woodwork.
Understand the potential of woodwork for creativity and critical thinking.
Learn how to introduce woodwork safely, implementing an effective risk assessment.
Understand the most suitable tools for young children and how to use them.
Be confident to develop a woodworking area.

Course type

Half Day Course

Audience

HLTA's, TA's and Teachers in EY

Venue, Date & Time

London Centre

Tuesday 6th June,

9.30am – 12.00pm

Book Now
Taking a Fresh Look at Sand & Water – Northern Centre
Half Day
21 Jun
£75.00

Taking a Fresh Look at Sand & Water – Northern Centre

Course description

Sand and water provide a wealth of exciting learning opportunities across the early year's curriculum and beyond! During this workshop we will discover how children are able to develop a range of problem solving strategies, both indoors and out. We will explore how these areas of provision provide meaningful learning experiences; enriching language, mathematical concepts and children's understanding of the world.

Time will be given to reflect on how planning for these areas, offering appropriate engagement and challenge, involves providing age and interest appropriate resources and should also provide challenges to extend learning – with inspiring examples of how schools and settings have developed their own sand and water areas.

Benefits

A clearer understanding of how to establish inspiring and effective water and sand areas.
Clarity of how this supports and extends children's learning.

Course type

Half Day Course

Led by

Early Excellence Consultant

Audience

HLTA's, TA's and Teachers in EY

Venue, Date & Time

Northern Centre

Wednesday 21st June,

9.30am – 12.00pm

Book Now
Taking a Fresh Look at Sand & Water – London Centre
Half Day
20 Jun
£75.00

Taking a Fresh Look at Sand & Water – London Centre

Course description

Sand and water provide a wealth of exciting learning opportunities across the early year's curriculum and beyond! During this workshop we will discover how children are able to develop a range of problem solving strategies, both indoors and out. We will explore how these areas of provision provide meaningful learning experiences; enriching language, mathematical concepts and children's understanding of the world.

Time will be given to reflect on how planning for these areas, offering appropriate engagement and challenge, involves providing age and interest appropriate resources and should also provide challenges to extend learning – with inspiring examples of how schools and settings have developed their own sand and water areas.

Benefits

A clearer understanding of how to establish inspiring and effective water and sand areas.
Clarity of how this supports and extends children's learning.

Course type

Half Day Course

Led by

Early Excellence Consultant

Audience

HLTA's, TA's and Teachers in EY

Venue, Date & Time

London Centre

Tuesday 20th June,

9.30am – 12.00pm

Book Now
Taking a Fresh Look at Blocks & Small World – Northern Centre
Half Day
30 Jun
£75.00

Taking a Fresh Look at Blocks & Small World – Northern Centre

Course description

Investigating how tall a tower can reach, to constructing elaborate fantasy worlds – blocks and small world play offer a wealth of opportunities for exciting learning, both separately and especially when combined! Come along to this workshop to explore how blocks can enable children to think creatively, problem solve and apply mathematical concepts. We will also consider how small-world play can effectively support children to develop their own ideas and so nurture their storytelling and underpin independent writing.

Benefits

A deeper understanding of how the use of blocks and small world supports and extends children's learning
Practical ideas to introduce and develop your use of these resources as part of enhanced and continuous provision

 

Course type

Half Day Course

Led by

Early Excellence Consultant

Audience

HLTA's, TA's and Teachers in EY

Venue, Date & Time

Northern Centre

Friday 30th June,

9:30am – 12.00pm

Book Now
Taking a Fresh Look at Blocks & Small World – London Centre
Half Day
30 Jun
£75.00

Taking a Fresh Look at Blocks & Small World – London Centre

Course description

Investigating how tall a tower can reach, to constructing elaborate fantasy worlds – blocks and small world play offer a wealth of opportunities for exciting learning, both separately and especially when combined! Come along to this workshop to explore how blocks can enable children to think creatively, problem solve and apply mathematical concepts. We will also consider how small-world play can effectively support children to develop their own ideas and so nurture their storytelling and underpin independent writing.

Benefits

A deeper understanding of how the use of blocks and small world supports and extends children's learning
Practical ideas to introduce and develop your use of these resources as part of enhanced and continuous provision

 

Course type

Half Day Course

Led by

Early Excellence Consultant

Audience

HLTA's, TA's and Teachers in EY

Venue, Date & Time

London Centre

Friday 30th June,

9:30am – 12.00pm

Book Now