It's a Small, Small World!
To launch our new 'Get Set for Storytelling' brochure we are delighted to be hosting a dynamic 'storytelling' event in each of our Centres – free of charge.
Do join us as we explore together all aspects of small world play and think about how to maximise the use of small world to support children's language development. We will be introducing you to an Audit Tool that will help you to assess your provision and talking you through a detailed Planning Guide to help you document how your small world is used to support many aspects of children's learning and development.
Key questions explored will be:
What small world do you ideally need in each area?
How do you enhance small world to add context and challenge?
What do you, as the adult, do to engage children and extend language?
How to you link children's small world play with their emerging literacy skills?
Arrive in our Centres from 4.00pm and enjoy a 'small world' afternoon tea of mini sandwiches and cakes followed at 4.45pm by an hours presentation and hands-on workshop to inspire development.
This is an opportunity to join us at the end of the day, free of charge – to relax, recharge your batteries and feel inspired by new ideas that you and your children will love.
Places are sure to book up fast, so don't miss out. Book up to 6 paces for EYFS and KS1 staff.
Northern Centre
Tuesday 14th November
London Centre
Thursday 16th November
Further information
To find out more about our Open Evening please contact, Nova Robinson (Northern Centre) or Phil Armstrong (London Centre), on 01422 311 314.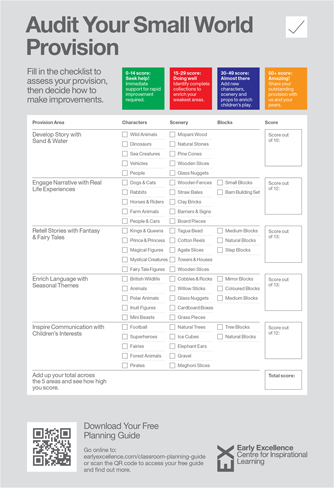 Find out more about how to develop your small world provision